Kodi and Mitch, two of the youngest models at Broke Straight Boys are going to be doing some fucking today. Mitch is a very lucky boy who will be getting fucked by the ever confidant Kodi. There was little chit chat as the two boys stood up and stripped off, Mitch only wondering how Kodi got naked so fast when he was struggling with his jeans.

Once both boys were starkers, they sat down next to each other and with dicks in hand, they worked on getting their cocks rock hard. Pausing only for a brief moment to apply some lube to their stiffening shafts, it was easy to see that Kodi and Mitch had a pretty good rapport with each other.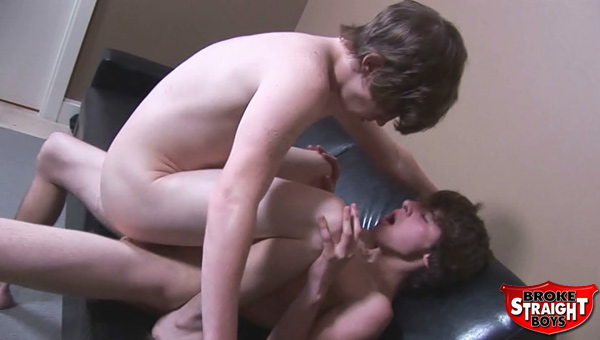 Only mere minutes later, there were two very stiff dicks in the room and as such, Kodi took control of the situation by deciding to suck cock first. Leaning over, Kodi took hold of Mitch's cock and slowly slid the hard shaft down his throat.